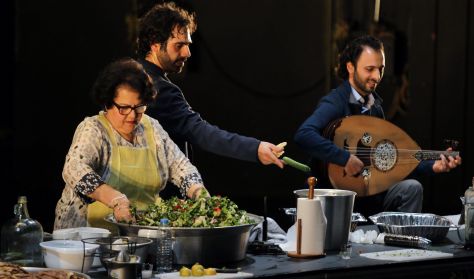 2
Beytna/OMAR RAJEH/MAQAMAT
Cyprus Contemporary Dance Festival 2022 more
Nincs aktuális előadás
Ön egy múltbeli eseményre keresett rá. Kérjük, válogasson aktuális kínálatunkból a Jegy.hu keresőjében!
Last event date: Friday, June 03 2022 8:30PM
Four choreographers and four musicians coming from Lebanon, Japan, Palestine, Belgium, and Togo are meeting on stage over a banquet of food. They are coming from different continents, cultures and countries. They have different artistic experiences, different backgrounds and ideas. What connects them is their profession. They talk, drink, laugh, dance, and eat together.

The simplicity of this meeting would be a starting point to a more complex choreographic and conceptual performance structure. Beytna is a simple invitation to the home of the other: health, happiness, pleasure, compassion, and friendship. It is an invitation to the artist's profession and choreographic construction, as much as it is to the forms and situations of the past.

In this on stage meeting over a banquet of food, viewers are also invited!

Concept and choreography: Omar Rajeh
Choreographed by: Koen Augustijnen, Omar Rajeh, Anani Sanouvi, Moonsuk Choi
Musicians: Ziad Ahmadic, Samir Nasr Eddine, Oussama Abdel Fattah, Joss Turnbull
Performers: Koen Augustijnen, Anani Sanouvi, Yi-Chi Lee, Omar Rajeh
Percussion: Youssef Hbeisch
Voice: Nohad Rajeh
Scenography & Costumes: Mia Habis
Technicians: Christian François, Philippe Balzé
Sound Engineer: Jean-Christophe Batut
Lighting design: Victor Duran Manzano
Graphic design & Video animation: Joe Elias, Nimslabs
Photo credits: D.Matvejev | Jean Philipse

Duration: 75'

Organised by: Cultural Services of the Ministry of Education, Culture, Sports and Youth & Rialto Theatre
Media Sponsors: Phileleftheros Newspaper, Αctive 107.4, CyBC
In collaboration with: Dance House Lemesos

Supported by: Limassol Municipality, Lemesos Newspaper, Limassol Today, Lemesos blog, ETAL, Vestnik Kipra, Russian Wave, Social et al.

Τechnical Support: Event Pro
Awarded: EFFE LABEL

Tickets: € 8 (€ 30 for all performances)
Free entrance for students, soldiers, pensioners and dance professionals
Free transportation from Nicosia to Limassol
Departure from the Cyprus Handicraft Centre (Athalassa Avenue)
Departure time: 19:00 I Information: 99 618225
http://cypruscontemporarydancefestival.com/
https://www.facebook.com/CyprusContemporaryDanceFestival/

Rialto Theatre, Friday, 3 of June 2022, at 20.30
E-ticket: www.rialto.com.cy, Rialto App
Rialto Box Office : 77 77 77 45
(Mon – Fri: 10:00 - 15:00 and 2 hours before the performance)
Cyprus Contemporary Dance Festival 2023, 14+
Choreography: Inbal Pinto
Warning! The basket time limit is about to expire!
estimated time left:
00:00
Time limit has expired. Please, put item(s) in to basket again.
---