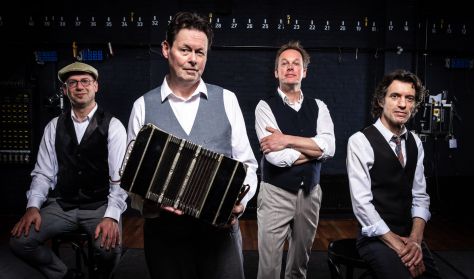 6
Celebrating Astor Piazzolla
Carel Kraayenhof Quartet
Nincs aktuális előadás
Ön egy múltbeli eseményre keresett rá. Kérjük, válogasson aktuális kínálatunkból a Jegy.hu keresőjében!
Last event date: Friday, February 03 2023 8:30PM
With the performance Celebrating Astor Piazzolla, the musicians of the Carel Kraayenhof Quartet honor their musical idol Astor Piazzolla, on the occasion of his hundredth birthday.

For bandoneonist Carel Kraayenhof, Astor Piazzolla is a musical godfather, a true hero who has influenced and shaped his whole life. From that first moment in that hotel room, when Piazzolla asked Kraayenhof: "Play me something, boy", the love was mutual. The life of the great Dutchman with his Argentinian heartbeat will forever be linked to the genius Argentinian Maestro. As the father of the tango nuevo, Piazzolla personally invited Carel to solo in his Tango Apasionado. Kraayenhof's performance at the Dutch royal wedding left many people deeply moved by Piazzolla's melancholy and powerful music.

If Carel is Piazzolla's musical child, then bass player Jaap Branderhorst and violinist Bert Vos are his grandchildren. Pianist Juan Pablo Dobal, from Buenos Aires, also had a warm relationship with Piazzolla's music at a young age. He accompanied Amelita Baltar, Astor's lover and first interpreter of his ballads and songs.

These four tangueros have been traveling the world together for more than 10 years, with their Sexteto Canyengue and the Carel Kraayenhof Ensemble. They also recorded eight CDs together. They have now formed the Carel Kraayenhof Quartet especially for this theatrical concert program.

In "100 years of Piazzolla", instrumental treasures alternate with colorful personal stories from Carel and his musical compañeros.

Quartet:
Carel Kraayenhof (bandoneon), Juan Pablo Dobal (piano), Jaap Brandenhorst (doublebass), Bert Vos (violin)

Rialto Theatre, Andrea Drousioti, Str.Heroes Square 3040 Lemesos
Friday 03/02/2023 at 20:30

Price: €20/15
E-ticket: www.rialto.com.cy
Box Office: 77777745 (Monday - Friday 10:00-15:00)
A soundwalk around and across Heroes' Square. In Greek & English
A tribute to Ennio Morricone by Stavros Lantsias Quartet
A concert tribute to Loukianos Kilaidonis
Warning! The basket time limit is about to expire!
estimated time left:
00:00
Time limit has expired. Please, put item(s) in to basket again.
---