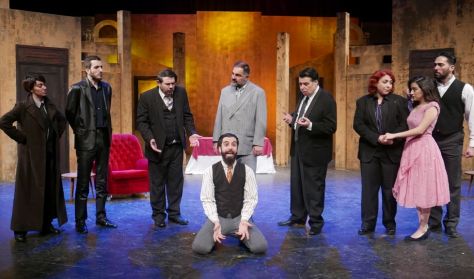 6
Ένας Υπηρέτης με δύο Αφεντικά
Satiriko Theatre
Carlo Goldoni's "A master of two servants" is one of the finest comedies of errors, this time set in the 1950s at the backdrop of Naples and the Italian mafia. The play's refreshed version is also a caustic social satire about love, passions, kindness, the search for happiness and the daily struggle for survival.
Adapted/directed by: Marianna Kafkaridou Set/Costumes: Lakis Genethlis
Starring: Panagiotis Kyriakou, Maria Fiaka, Andreas Rozou, Vasilis Michael, Marios Demetriou, Spyros Georgiou, Andrei Krupa, Zena Kafkaridou, Alexandros Martides, Maria Andreou, Nikolas Kourouzides, Estela Tembrioti, Michalis Anagiotos.
Duration: 120'
Tickets: €15 / 12