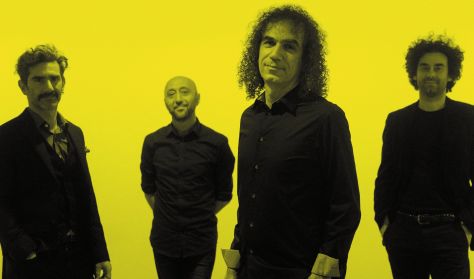 Ο "Δικός" μου Ennio Morricone
A tribute to Ennio Morricone by Stavros Lantsias Quartet
Nincs aktuális előadás
Ön egy múltbeli eseményre keresett rá. Kérjük, válogasson aktuális kínálatunkból a Jegy.hu keresőjében!
Last event date: Tuesday, October 31 2023 8:30PM
Acclaimed Cypriot pianist and composer, Stavros Lantsias, introduces the audience to the music universe of his beloved composer, Ennio Morricone, presenting some of the most unforgettable soundtracks of emblematic films such as Lolita, Cinema Paradiso, Once Upon a Time in the West, The Good, the Bad and the Ugly. Inventive arrangements and inspired orchestrations by charismatic soloists make up an evening passionately dedicated to the music of the Italian composer: with love for Cinema, images and emotions, enriched with references to the films and fascinating extracts from interviews with the composer.

Some of Lantsias' compositions on Morricone's music were first presented at Megaron Athens Concert Hall, during the premiere of the documentary on Ennio Morricone's life, directed by Giusepe Tornatore, at Athens International Film Festival "Premiere Nights".

Experienced and sensitive, Lantsias approaches the work of Ennio Morricone at its very core, understanding its multiple dimensions and exploring every composition in detail. Through his own creative vision, and accompanied by his skilled fellow instrumentalists, he sets up a fascinating film that evokes a multitude of emotions. The musicians never abandon the spirit of composition: they set the tone of jazz, producing exquisite music that touches both musicians and listeners.

The album Stavros Lantsias Quartet "My Ennio Morricone" was completed in the summer of 2023, with the permission of the composer's family.

Stavros Lantsias: piano, melodica, metallophone
Andreas Polyzogopoulos: trumpet & flügelhorn
Michalis Kalkanis: double bass
Michalis Kapilidis: drums
Produced by: GSA Cultural Productions LTD

31 OCTOBER 2023 Tuesday at 20:30
Tickets: € 15 / 10.
Duration: 75'
Rialto Theatre, Limassol | E-ticket : www.rialto.com.cy
Box Office: 77 77 77 45 (mon-fri 10:00-15:00)
Choreography: Evie Demetriou / On Stage
Warning! The basket time limit is about to expire!
estimated time left:
00:00
Time limit has expired. Please, put item(s) in to basket again.
---