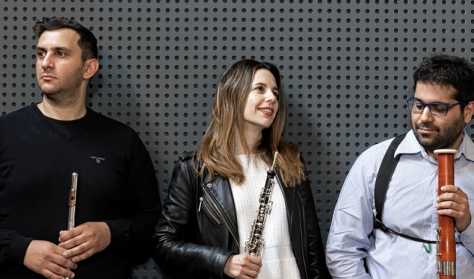 Ο Τσιτσάνης αλλιώς.../Quintus Ensemble
Quintus Ensemble revives the music of Vasilis Tsitsanis
Nincs aktuális előadás
Ön egy múltbeli eseményre keresett rá. Kérjük, válogasson aktuális kínálatunkból a Jegy.hu keresőjében!
Last event date: Saturday, September 17 2022 8:30PM
In the framework of the Rialto Theatre Programme, FlashArt 2022, Quintus Ensemble revives the music of Vasilis Tsitsanis through a selection of alternative arrangements of the acclaimed Greek songwriter's compositional work.

Band members: Savvas Christodoulou (flute), Natalie Neofytou (oboe), Yiorgos Georgiou (clarinet), Evangelos Christodoulou (bassoon), Annita Skoutella (horn).

Arrangements, covers: Neoklis Neofytides

Quintus Ensemble
The first performance of the band took place in Limassol in March 2017. Since then it has appeared at various musical events and art places such as Technopolis in Paphos, the Famagusta gate and the RIK theatre "Andreas Christofidis" in Nicosia, the Rialto Theatre in Limassol and at festivals such as the windcraft Music Fest in Katydata, PAFOS 17 and elsewhere..

Quintus Ensemble became well-known for innovatively arranging popular compositions, aiming at introducing their unique musical tones and features to a wider audience.

Institutional Sponsor: Deputy Ministry of Culture
Major Sponsors: OPAP Cy, Medochemie, Island Oil, Fameline
Media Sponsors: Kathimerini newspaper, CyBC, Kanali 6

Rialto Theatre, Saturday, September 17 at 20:30
Tickets: € 12/10
E-ticket: www.rialto.com.cy
Box Office: 77 77 77 45
(Mon - Fri 10:00-15:00 and 90' before the start of the performances)
Cyprus Contemporary Dance Festival 2023,16+
Cyprus Contemporary Dance Festival 2023, 14+
Cyprus Contemporary Dance Festival 2023, 7+
Warning! The basket time limit is about to expire!
estimated time left:
00:00
Time limit has expired. Please, put item(s) in to basket again.
---