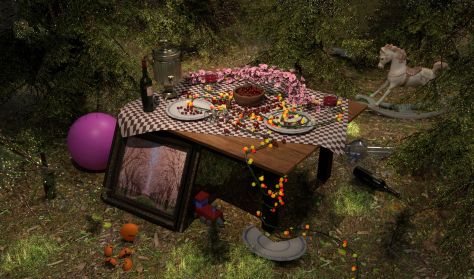 2
Ο Βυσσινόκηπος/Θέατρο Τσέπης
The Cherry Orchard in Greek? I KYPRIA International Festival 2022
Nincs aktuális előadás
Ön egy múltbeli eseményre keresett rá. Kérjük, válogasson aktuális kínálatunkból a Jegy.hu keresőjében!
Last event date: Tuesday, September 20 2022 8:30PM
The characters of the play are wondering, "Why such an anxiousness in such a beauty?". They allege lies so as not to deal with the truth, which will tantalise them. They choose the easy way to oblivion and evasion, like Lotus-eaters.

Pocket Theatre is reckoned with the final play of the great Russian writer about the unmerciful power of change and the confusion of future uncertainty, the fears but also the hopes for all new things amid huge historical changes.

CONTRIBUTORS
Translation: Orestis Aggelides
Direction: Marios Theocharous
Stage and costume design: Thelma Cassoulidou
Lighting design: Vasilis Petinaris
Sound design: Constantinos Evaggelidis
Movement: Marina Poyiadji
Lullaby lyrics: Stavros Stavrou
Media coordinator: Loukia Vassiliou
Artwork: Andreas Ioannou

Cast:
Katerina Kazantzis: Lyubov Αndreievna Ranevskaya
Xenia Prodromou: Anya
Miranda Nyhidou: Varya Mihailovna
Konstantinos Gavriel: Leonid Gayev
Andreas Nicolaides: Yermolay Alexeyitch Lopakhin
Aris Kyprianou: Pyotr Trofimov Sergeyevich
Marileni Stavrou: Boris Borisovits Simeonov-Pishchick
Marileni Stavrou: Sharlotta Ivanovna
Giannis Ioannou: Semyon Yepikhodov
Athena Savva: Dunyasha (Avdodia Fiontorovna)
Yiannos Antoniou: Firs
Demetris Yiorkajis: Yasha

Duration: 80΄

Age 13+

Tickets: €15/10
Choreography: Inbal Pinto
Cyprus Contemporary Dance Festival 2023, 14+
Warning! The basket time limit is about to expire!
estimated time left:
00:00
Time limit has expired. Please, put item(s) in to basket again.
---