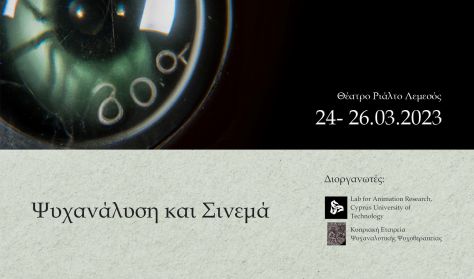 3
Ψυχανάλυση και Σινεμά
A tribute to «Psychoanalysis and Cinema» with four feature and four short films.
Nincs aktuális előadás
Ön egy múltbeli eseményre keresett rá. Kérjük, válogasson aktuális kínálatunkból a Jegy.hu keresőjében!
Last event date: Sunday, March 26 2023 6:30PM
The Cyprus Society for Psychoanalytic Psychotherapy, the Lab for Animation Research of Cyprus University of Technology and the Rialto Theatre host a tribute to 'Psychoanalysis and Cinema' aspiring to create a new framework in Cyprus, in which the form of cinema is analysing itself and psychoanalysis is being self-created. The event investigates the parallel reality created by psychoanalysis and cinema in order to process the complex conflicts encapsulated in the reality we know.

The organisers aspire to introduce the idea of an alternative way of viewing a film, which combines the art of cinema with the psychoanalytic theory and practice as a means of recognizing the unconscious language that expresses and defines us, while introducing a new pioneering approach for film events in Cyprus.

Four feature films and four short films will be screened and analysed by panels consisting of psychoanalysts and film theorists. A discussion with the audience will follow. A HAIKU workshop will complement the event, held by Blend the Space creativity centre.

PROGRAMME

Friday
15.30-18.30 Films screening and discussion
19.00-21.30 Film screening and discussion

Saturday
15.00-18.00 Film screening and discussion
18.00-21.00 Film screening and discussion

Sunday
18.30-21.30 Film screening and discussion
The films will be analysed by:
Nicos Synnos, Christos Panayiotou, Yiannis Christidis
Anna Ioannou: Psychologist-Psychoanalytic Psychotherapist
Kassiani Feleki: Psychiatrist-Psychoanalytic Psychotherapist
Yiannis Papadopoulos: Psychiatrist-Psychoanalytic Psychotherapist
Constantinos Argianas: Art historian, lecturer (CUT).

Tickets: € 5 (10 for 3 days ...https://rialto.interticket.com/seasonticket/buy/4/127  ) 
Concert by famous Greek singer Fivos Delivorias
Kieran's Hurley play Mouthpiece. In Greek I On stage (15+)
Warning! The basket time limit is about to expire!
estimated time left:
00:00
Time limit has expired. Please, put item(s) in to basket again.
---