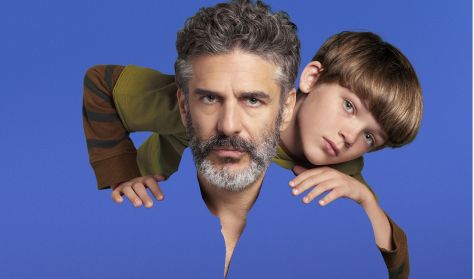 Σήμερα φτιάχνουμε τον κόσμο/Ariel Winograd
Rialto Summer Cinema
Nincs aktuális előadás
Ön egy múltbeli eseményre keresett rá. Kérjük, válogasson aktuális kínálatunkból a Jegy.hu keresőjében!
Last event date: Sunday, July 24 2022 9:00PM
117', Argentina, 2022
David Samaras, known to everyone by his nickname "el Griego" (the Greek), is the producer of the popular talk show "Today we Fix the World", where supposedly ordinary people settle relationship conflicts with their partners, friends, workmates, parents, and children.

His most enduring bond is with his 9-year-old son Benito, the fruit of a brief fling for whom he feels a legal obligation rather than affection. Things get complicated when the boy's mother reveals to him that Benito is not his son. El Griego decides to tell Benito the truth and help him find his biological father.

Screenplay: Mariano Vera
Directing: Ariel Winograd
Cast: Leonardo Sbaraglia, Benjamín Otero, Luis Luque, Charo López, Gabriel Corrado.

Ariel Winograd was born on August 23, 1977 in Buenos Aires, Argentina. He is a director and writer, known for The Heist of the Century (2020), Inside Man (2006) and Cheese Head (2006).

IMDb Review
Beautiful family comedy drama about finding your place in the world (Mattkocian 28 March 2022)

"Today we fix the world" does not pretend to be something it is not. It is a comedy drama showing us a journey of a father and son which might lead them apart or bring them closer than ever. Leonardo Sbaraglia and young actor Benjamin Otero have a great chemistry and are a very dynamic duo, without which the movie would not work. The script by Mariano Vera leads us through many life situations in a seamless way that makes us laugh, cry or worry about the characters. Director Ariel Winograd managed to capture the journey in such captivating way that keeps you wondering what will happen next.

I also need to highlight superb cast in secondary roles: Natalia Oreiro as the mother has few scenes where she shines, but her essence can be felt throughout the whole movie; Soledad Silveyra, Luis Luque, Gabriel Corrado or Diego Peretti are Latin American stars that manage to bring light to their small roles that form this extraordinary story. Pedro Onetto composed movie score in such way that highlights each scene and the score itself is a masterpiece.

Overall, if you would like to enjoy a very good and high quality production movie with excellent cast and superb narration, "Today we fix the world" is the right choice for you. You will not regret it."

All films of Rialto Summer Cinema will be screened in the original language of production, with Greek and English subtitles.

Sunday, 24th of July 2022@SEK Parking place (behind Rialto)
Starting time: 21:00

Tickets: € 8, E-ticket: www.rialto.com.cy
Information / Box Office: 77 77 77 45
(Mon – Fri: 10:00 - 15:00 and 2 hours before the performance)
Annual concert Tatiana Stupak School of Music
Warning! The basket time limit is about to expire!
estimated time left:
00:00
Time limit has expired. Please, put item(s) in to basket again.
---