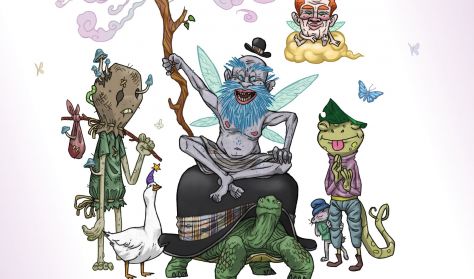 The Animattikon Project
Αnnual Ιnternational Animated Film Festival I Kimonos Art Center, Cyprus University of Technology, Rialto Theatre.
Nincs aktuális előadás
Ön egy múltbeli eseményre keresett rá. Kérjük, válogasson aktuális kínálatunkból a Jegy.hu keresőjében!
Last event date: Friday, October 28 2022 8:30PM
The annual international animated film festival "The Animattikon Project" sets out for its fifth edition, introducing for the very first time the collaboration between Kimonos Art Center, Cyprus University of Technology and The Rialto Theatre in Limassol, which will host the three-day official viewings for the year 2022, on October 26, 27 and 28. During this period, and moving towards the International Animation Day (October 28), the Rialto Theatre will host the viewing of more than 50 animated films by both acknowledged and emerging artists, whose work has been selected among hundreds of submissions, and who come from more than 20 countries from all over the world. These movies will also participate in the competition for the "Golden Hats" awards, granted by the jury committee of "The Animattikon Project" for seven different categories. Apart from the official viewings, animation fans will have the opportunity to participate in various happenings and events, such as educational programs, special workshops for children and lectures by internationally renowned animators and animation critics, and to enjoy special viewings which will take place both in Limassol and in Paphos and will be announced in due time.

*wed 20:30 - 22:00 Screening of Cypriot and international student films
thu 20:30 - 22:00 Screening of international short films
fri 17:00 - 18:30 Screening of short films for children
20:30 - 22:00 Screening of Animated documentaries, animated music videos and commissioned animated films
22:00 - 22:30 Golden Hats Awards Ceremony

Tickets: €5(entrance free for children, and students)
Radio station LOVE FM 100.7 presents Lina Nikolakopoulou & Thodoris Voutsikakis
Memoirs of a Miner | Production: Compania Flamenca Filippa
Warning! The basket time limit is about to expire!
estimated time left:
00:00
Time limit has expired. Please, put item(s) in to basket again.
---