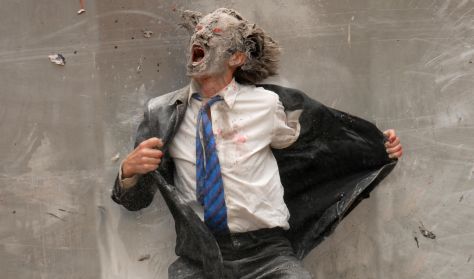 5
Transfiguration - Olivier De Sagazan
Open House Festival / On Stage
The Open House Festival begins with the renowned performance by painter and sculptor Olivier de Sagazan, portraying the artist's insatiable desire to give life to the sculpture itself. 
In a gesture of despair, he enters in his material clay to give it life. He sculpts clay on his head, burying himself in the material, eradicating his identity and becoming a living work of art, somewhere between puppet and puppeteer. But then, the material blinds him and he is forced to look inwards, into the very depths of his Self. In a fascinating, expressive, total performance, Sagazan shifts identities on stage, from man to animal or to various hybrid creatures. He pierces, erases and unravels the layers of his face in a frenetic and uninhibited quest. Painting and sculpting oneself becomes a form of ritual positioned between dance and trance where improvisation is essential.
Olivier de Sagazan, at first painter and sculptor, is more and more working in the living arts (performance, dance, theater).  He has since made over 100 performances in the USA, China, India, and Europe. His performances have led to numerous collaborations with artists from the world of fashion, cinema and music, such as: Nick Knight and Gareth Pugh for the fashion film This is not show, Nick Antosca for the series Channel Zero, Mylène Farmer for the music video A l'Ombre, Bartosz Konopka for the movie The Mute, Mario Sorrenti for the movie Discarnate e.t.c
"I am flabbergasted in seeing to what degree people think it is normal to be alive. Disfigurement in art is a way to look at life with new eyes and take awareness of her strangeness"- Olivier de Sagazan
In collaboration with Rialto Theatre, within the frame of the Festival's 10 years anniversary and Rialto Theatre's 20 years
Duration: 45'
Tickets: €12-10
The ticket for this performance is not included in the price of the Festival card.