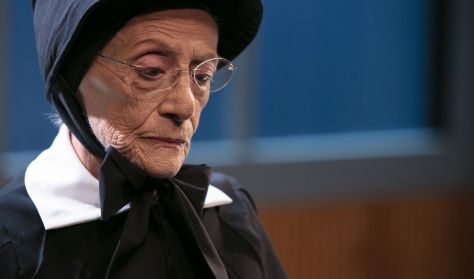 15
Αμφιβολία/Κεντρική Σκηνή ΘΟΚ
Doubt | CTO Central stage
Nincs aktuális előadás
Ön egy múltbeli eseményre keresett rá. Kérjük, válogasson aktuális kínálatunkból a Jegy.hu keresőjében!
Last event date: Wednesday, December 21 2022 8:30PM
In the 1960s, in a Catholic school in the Bronx, the strict principal, Sister Aloysius, suspects that Father Flynn, a young progressive priest, is behaving inappropriately with one of the students. Her suspicions rapidly escalate until she is certain of his guilt. Unable to imagine that she might be mistaken, she does everything in her power to have Father Flynn removed from the school.

John Patrick Shanley's renowned play Doubt, written in 2004, won both a Pulitzer Prize and a Tony Award, and became widely known through its film adaptation in 2008. As the title suggests, it illuminates the way the human mind struggles with its certainties.

A parable about the multifaceted nature of truth, and the grey areas between intentions and actions, and between good and evil, where doubt resides.

Assisted by an outstanding cast and creative team, including acclaimed actress Despina Bebedeli, director Andreas Araouzos skillfully explores the issues raised by the play and shows how they continue to resonate.

Translated by: Konstantinos Kritsis
Directed by: Andreas Araouzos
Set/Costume design: Yiorgos Yiannou
Music: George Kolias
Lighting design: Georgios Koukoumas
Assistant director: Nafsika Apostratou

With English and Turkish surtitles.

Duration: 100'

Tickets: €12 /6
A tribute to Albert Camus by Vivliotropio. In Greek
A tribute to Ennio Morricone by Stavros Lantsias Quartet
A play by Michalis Papadopoulos. Directed by Alexia Papalazarou. In Greek
Warning! The basket time limit is about to expire!
estimated time left:
00:00
Time limit has expired. Please, put item(s) in to basket again.
---