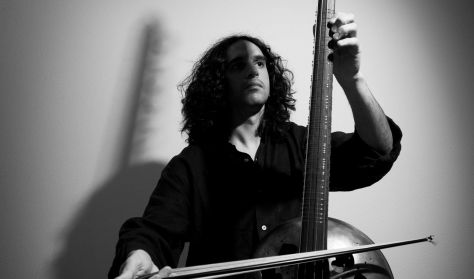 Rialto Residency: Traditional Eastern Mediterranean Music
11th Cyprus Rialto World Music Festival 2016 - Platres Village (Glafcos Clerides Square)

more
Nincs aktuális előadás
Ön egy múltbeli eseményre keresett rá. Kérjük, válogasson aktuális kínálatunkból a Jegy.hu keresőjében!
Last event date: Saturday, July 23 2016 8:30PM
Continuing its long collaboration with the Community Council of Platres, Cyprus Rialto World Music Festival for another year organize the activities of the Rialto Residency in Platres.
Rialto Residency having this year as leader the famous Greek musician Michali Choleva, who will focus on techniques, forms and stylistic elements of the Eastern Mediterranean traditions. Classical compositions will be used as starting point for different approaches to improvisation.
Michalis Cholevas is a multi-instrumentalist playing the Ney, Yayli tanbour, Tarhu and saz. He studied Classical, Jazz and Eastern Mediterranean Music at music high school of Pallini and the municipal Conservatory of Piraeus, Greece. He followed ney seminars with neyzen Omer Erdogdular and Kudsi Erguner, Saz seminars with Erdal Erzincan, Jazz piano lessons with George Kontrafouris, Byzantine music with Giannis Arvanitis, Maqam theory with Marios Mavroedis and music fundamental elements with Antonis Apergis. Other studies: B.A. Natural Sciences (2004), M. Sc. Theoretical physics (Quantum Optics). He has performed and collaborated with several artists including Louisiana Red, Angelo Bandalamenti, the Brussels Philharmonic Orchestra and George Kontrafouris and Project Eleusis. On June 2009 he completed his Master studies (MA in Music Performance) at Rotterdam Concervatory of Music having been awarded the HSP excellency scholarship.He now works as a freelancer.
The Cypriot musicians participating in this year's Rialto Residency are: Christina Polykarpou lyre, Mikaella Papachrysanthou kanun, Andreas Lardis violin, Petros Kizas percussions, Giannis Koutis oud and vocals and Vasilis Philippou vocals and compositions.
The results of their joint study will be presented by all the artists of Rialto Residency in a concert on Saturday 23rd of July. For the first time the concert will take place at the new open air of Glafcos Clerides square at Platres.
On Sunday 24th of July at 11:00 am, Michalis Cholevas and the participant musician of the Rialto Residency will present their original compositions at Caledonian Falls in Platres. This is an old habit of the artists, which last year turned into a successful unplugged open air concert that received a very enthusiastic response from all the excursionists – spectators who attended.
Click here for the website of Cyprus Rialto World Music Festival
Gogol's play The Gamblers. In Greek with English and Turkish surtitles
Piano Recital with Yiannis Georgiou
Warning! The basket time limit is about to expire!
estimated time left:
00:00
Time limit has expired. Please, put item(s) in to basket again.
---